Here you go, study up for the test tomorrow
Hi there,
I'm not having any luck with the ticket queue. Currently, at 9:04 a.m. MST, the queue is not starting. The seetickets site only says this event is not on sale yet.
Thank you,
JM
Same. I am not being placed in the "Queue-it virtual room."
Ok - now I'm in Queue-It. Not sure how I got here but i ain't moving!

Spoke to PBG who says the system is "Caching" and to keep trying.
I'm not in the que either … or at least don't appear to be!
Looks like I am, just not good messaging for "waiting room".
Ouch, # 6117
I have to leave pretty soon, might not make it.
#523/

Praying on technology snafus like getting dropped or booted off!
anyone knoe if I can log off my computer, then pick up on my phone?
WOW. Im 5780. and my buddy is 9534. No Way. BOT CENTRAL is upon us
My "spot" in the cue has moved up as the ticket sale has commenced. 5700 to 5100 to 5777…
Hundreds of tickets already posted on StubHub…
This is disappointing.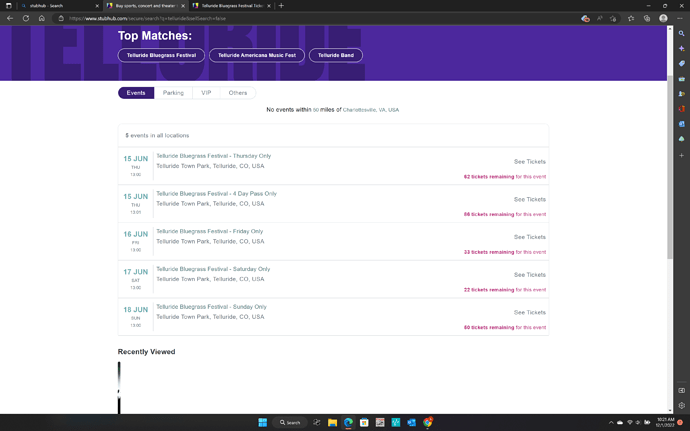 To be fair, just because they're posted on stubhub, does NOT mean they have the tickets secured. They've 'showed up' on StubHub in previous years before the onsale even started.
cant help but wonder how many 4 day passes are even left at this point
Answering my own question, when I tried to go to my phone, I went to the back of the line

6k to go. Can't recall ever having issues like this before. Maybe I just got lucky every other time?
Our turn came up, put in 4 tix and it took back to the main page. Nothing. Wtf is happening!?!?
No. The Bots have won the game, or … SEE Tix sold out in Advance to a broker, which happens in the dirty ticket world.