@TellurideTom Hey buddy, is it time for your weather forecast? I'm getting antsy to get goin'!
Damp, perhaps. But only down to the low 40s at night. Not too bad. Just don't need the six inches of wet snow the night that Robert Plant last closed out the Festival last time!
The link shows my local weather, maybe because I'm using the Weather Channel app also?
Here is a screenshot of what my app shows for Telluride: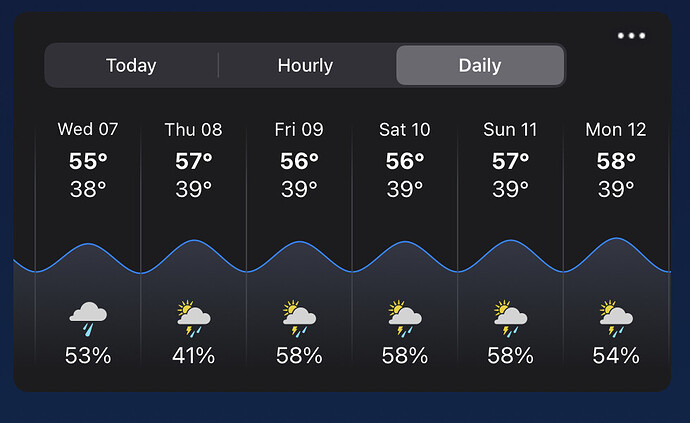 Stocking up on rain gear and handwarmers!
Your forecast looks much better that the one I'm looking at for ABGAT. Lows of 30 to 32 at night and highs of only 51 during the day. Yikes!
That was fun packing out the next morning from Warner Field
I'm deeply regretting my decision to not snag a vehicle pass when I got my TP passes! I just didn't want to spend the extra money, but I'm now of the opinion that sleeping in my van, while still chilly, would have been much more comfortable than the tent in these temps. I've got my 20 degree bag, two sleeping pads, wool blanket and all the baselayers. Hoping that's enough.

Wait, you're planning on sleeping!? That's your first mistake

Just kidding, you'll be fine and if you don't have a disability/severe medical concern, or very young children/are pregnant, there's no real reason for a vehicle pass.
Stay away from the water if you're super concerned about temps. Northern or western Zone 1, southern campground or central primitive will be your best bets!
i do need a little sleep!


no issues other than i run on the cold side, so i'm bringing all the things! thanks for the input about where to set up. we won't be getting in until late Monday/early Tuesday so hopefully we can find a good spot away from the water. we'll deal with wherever we are, although i am still hoping for a little shift in the weather towards warmer.
models are trending warmer and drier as of late, keeping my fingers crossed!