Howdy neighbors, 4 weeks and 1 day till we leave, and excitement is building daily! Thought I'd post and give folks a heads up on the Lampshade hat making. If you want to be the envy of those who don't make pre-fest, and want your very own high fashion light up Lampshade Hat, like these: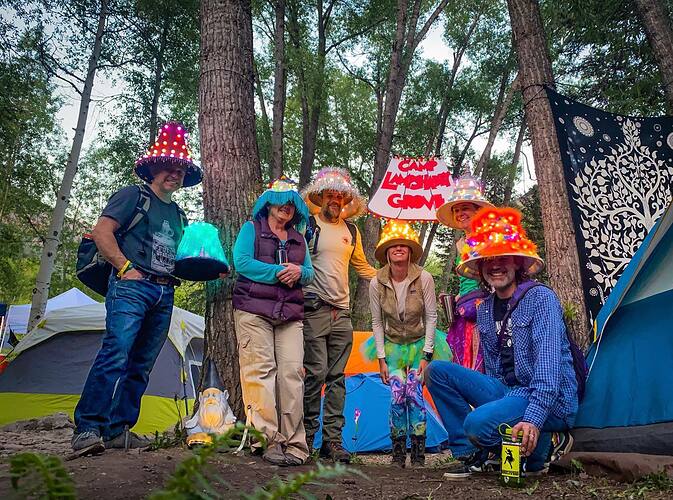 Here's what you'll need to bring: 1 old lampshade (easy to find one for a couple bucks at flea markets and thrift stores), 1 cheap fedora style round billed hat (the lampshade will rest on the hat, so make sure it fits the shade you chose), 1 strand of Fairy lights, we use this one from Amazon: https://a.co/d/e87Jjjt , 1 usb power source (one of those small cell chargers, back up power sources, lighter weight the better). you can bring beads, feathers or other things to decorate with.
We'll have glue guns and few other things for flair, and help and instructions from Lampshade guru Will.
We'll also be frying fish, hushpuppies, and coleslaw. Please bring your own plate and utensils for eating.
Fish will start being ready around 2pm, and we'll keep fresh batches going until it's gone.
Bring an instrument and jam in our living room, eat some yummy goodness, make a fun hat, or just come chill after the Beer Share.
We'll gather all the Lampshaders for a picture Saturday night after Mary Chapin before Sam, and parade through the Festival grounds before Sam's set begins.
If you made a shade last year don't forget to bring it!