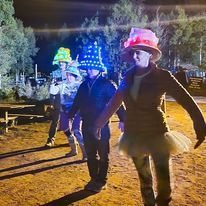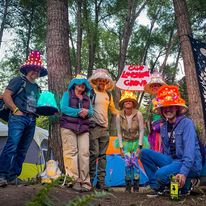 Lighting up the evening!



Hey, that's me!!!



Sheila
This was a fun walkabout.

My great aunt passed away recently. She was 97 and lived a great life. I was over there last week and my mom asked me if there was anything I wanted. I looked around and said not really. And then in the garage there was this random, unordinary lampshade sitting there, and I said "can I have this lampshade?". My mom looked at me kinda funny and said "I guess. I probably have a better one if you want it". "No, that's ok. I might just want to make a hat". My dad just shakes his head and turns around and walks off.
I am going to name this hat "Gloria".
My aunt had these gold shoes that she wore all the time. My brother in law used to alway talk about how she always wore those gold shoes. My parents wrapped them up and gave them to him for Christmas. It was pretty hilarious.
Glad they both got to live long long lives and give us happy memories.

Sorry y'all been out of the loop, just been looping elsewhere. The other lampshade hat buider and wearer is the esteemed Ms. Sheila!